A key member of 4 Aces GC, Reed earned the nickname "Captain America" with his stellar exploits in three Ryder Cup appearances, including the U.S. victory at Hazeltine in 2016. The highlight of his nine career wins came at the 2018 Masters, where he took the 36-hole-lead and never relinquished it, to win by one stroke. Reed, who has been in the world top 50 since 2014, has top-10 finishes in all four Majors. In the 2022 LIV Golf Invitational Series, he was in the top five three times, including runner-up spot in Bangkok, and finished fourth in the Individual Champion standings.
Winner of nine tournaments worldwide, including the 2018 Masters.

Achieved highest world ranking at No. 6 in June 2020.

Has top 10 finishes in each of the four majors.

Represented U.S. in three Ryder Cups, earning nickname as Captain America.

Has been a world top 50 player since January 19, 2014.

In 2014 in a professional tournament in California, opened with rounds of 63-63-63 to play the first 54 holes in 27 under.

Won at least one tournament in eight of the previous nine years.
WINS (1)
2018 Masters - Led for each of the final three rounds at Augusta National, winning by one stroke at 15 under ... Made 13 birdies and two eagles in the middle two rounds while shooting 66-67 to take control of the tournament ... Said Reed: "Every time you think about it as a kid growing up, it's always, you know, this putt is to win a green jacket; this putt's to win the Masters. I think that's just because of the history and everything that's gone on here at Augusta National and how special it is to all the golfers and special it is to just golf in general around the world."
STARTS AND FINISHES
Masters
Starts: 10
Best finish: Win (2018)
Top 10s: 4
Cuts made: 8
PGA Championship
Starts: 9
Best finish: 2nd (2017)
Top 10s: 1
Cuts made: 7
U.S. Open
Starts: 9
Best finish: 4th (2018)
Top 10s: 1
Cuts made: 8
Open Championship
Starts: 8
Best finish: 10th (2019)
Top 10s: 1
Cuts made: 5
RYDER CUP HISTORY (Team USA)
Appearances (3): 2014, 2016, 2018
Record (wins, losses, halves): 7-3-2
Total matches: 12
Singles (W-L-H): 3-0-0
Foursomes (W-L-H): 1-0-2
Four-balls (W-L-H): 3-3-0
Meet the Caddie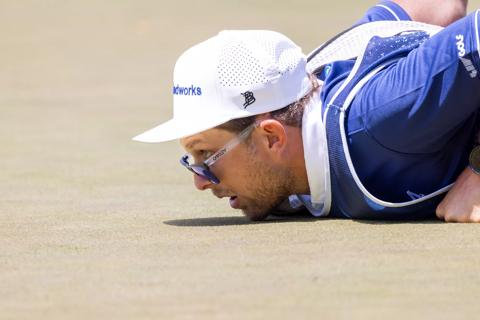 Kessler Karain plays a crucial role in supporting Patrick Reed in navigating the complexities of professional golf. Since taking on the role in 2014, Kessler has helped Patrick achieve 9 professional tournament wins, including the 2018 Masters. With his deep knowledge of the game and his strategic insights, Kessler has proven to be an instrumental figure in Reed's achievements on the PGA and LIV Golf.
Kessler is also Patrick Reed's brother-in-law. This familial bond adds an extra layer of trust and understanding to their professional relationship. Kessler's commitment to Reed's success and their shared passion for the game continue to drive them forward. Their strong partnership and shared vision for excellence have solidified their status as a formidable golfer-caddie duo.
As Kessler Karain's journey alongside Patrick Reed continues, it is clear that his expertise, dedication, and unwavering support will play a significant role in shaping Reed's future accomplishments in the world of golf.