Big-hitting Johnson is not only one of the biggest stars in golf, he has been a dominant force since joining LIV. He took home the 2023 LIV Golf Tula title in a thrilling playoff, and was also named the season-long Individual Champion in 2022 by a comfortable margin. His 4Aces GC team won four regular-season events and the Team Championship, and he authored one of the most dramatic shots of the first season with an eagle putt to win a three-man playoff in Boston. He's won tournaments in 15 of his first 16 seasons as a pro, including two Majors – the 2016 U.S. Open and the 2020 Masters.
Winner of 30 tournaments worldwide, including two majors – 2016 U.S. Open and 2020 Masters – the 2022 LIV Golf Invitational Boston and LIV Golf Tulsa in 2023.

Won in Tulsa by beating Cameron Smith and Branden Grace with a birdie on the first playoff hole.

Won in Boston by making a lengthy eagle putt on the first playoff hole to beat Anirban Lahiri and Joaquin Niemann.

Winner of LIV Golf's season-long Individual Champion crown in 2022.

Only player to record points in all seven regular-season LIV Golf events in 2022.

Won 2020 Masters with a record score of 20-under 268.

Ranked world No. 1 for more than 130 weeks in his career, including 64 consecutive weeks starting in February 2017.

Won at least one worldwide event each year between 2008-13 and 2015-21 (13 out of 14 years).

Posted multiple wins in seven different years – 2010 (2), 2013 (2), 2016 (3), 2017 (4), 2018 (3), 2019 (2), 2020 (3).

Has won three other 54-hole events shortened by weather issues.

Has won two events in Saudi Arabia.

Shot a career-low 60 while winning a tournament in Boston in 2020.

In 2021, became fifth American player in Ryder Cup history to win all five of his matches in a single Ryder Cup.
WINS (2)
2016 U.S. Open – Won his first major at Oakmont in his 29th career major start … Finished three strokes ahead of runners-up Shane Lowry, Jim Furyk and Scott Piercy … Was T-2 after 18 holes, the solo leader after 36 holes and tied for second after 54 holes … Shot a 1-under 69 in the final round … Said Johnson: "I think it's well deserved. After everything that I've been through in the majors, I've knocked on the door a bunch of times. To finally get that major win, it's huge."
2020 Masters – Won at Augusta National in November after the tournament was rescheduled from its traditional April dates due to the COVID-19 pandemic … Shot 65-70-65-68 to set a Masters scoring record of 20 under … Won by 5 strokes over Sung-jae Im and Cameron Smith … Led by 4 strokes entering the final round … Became first player in Masters history to reach 20 under at any point of the tournament … Led or was tied for the lead after every round … Said Johnson: "It's the one I wanted to win the most. I'm just very proud of the way I handled myself and the way I finished off the golf tournament."
STARTS AND FINISHES
Masters
Starts: 13
Best finish: Win (2020)
Top 10s: 5
Cuts made: 11
PGA Championship
Starts: 13
Best finish: 2nd (2019, 2020)
Top 10s: 6
Cuts made: 9
U.S. Open
Starts: 15
Best finish: Win (2016)
Top 10s: 6
Cuts made: 13
Open Championship
Starts: 13
Best finish: 2nd (2011)
Top 10s: 5
Cuts made: 11
RYDER CUP HISTORY (Team USA)
Appearances (5): 2010, 2012, 2016, 2018, 2021
Record (wins, losses, halves): 12-9-0
Total matches: 21
Singles (W-L-H): 4-1-0
Foursomes (W-L-H): 3-3-0 
Four-balls (W-L-H): 5-5-0 
Meet the Caddie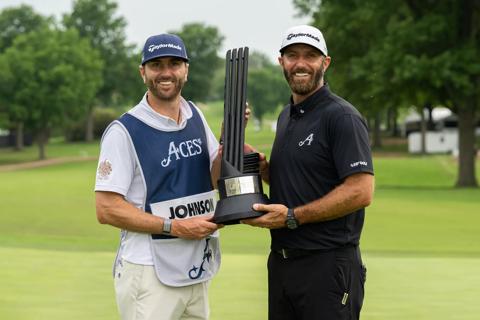 "You travel with your caddie, eat with your caddie, spend all day with your caddie. It needs to be someone you like, someone you trust. I'm never going to have with anyone else what I have with him." - Dustin Johnson
As brothers, Austin and Dustin hold that all important trust for each other, but that is not the only reason the partnership has seen so many victories. Austin is a highly regarded caddie and an integral part of Dustin's success. Since Austin picking up the bag in 2008, the duo has won over 30 professional tournaments, leading to Austin being awarded PGA Tour Caddie of the Year in 2016.
Austin's calm and composed demeanor, coupled with his insightful guidance, undoubtedly plays a significant role in Dustin's remarkable career.