A member of the 4 Aces GC that dominated the 2022 LIV Golf team competition, Perez has won four tournaments since turning pro in 1997. All three of his victories since 2009 have come in different countries: the U.S., Mexico and Malaysia. Perez is one of the biggest characters in golf and a joy to watch, with his mullet fluttering in the wind and his penchant for saying what's on his mind.
Winner of four tournaments worldwide.

His three wins since 2009 have come in three different countries.

Has finished inside the top 10 in more than one-third of his worldwide starts.

Reached a career-best 16th in the world rankings in January 2018.

Has spent more than 70 weeks of his career as a top 50 player.

Has made the cut in 17 of 27 major starts.
STARTS AND FINISHES
Masters
Starts: 4
Best finish: 18th (2017)
Top 10s: 0
Cuts made: 2
PGA Championship
Starts: 12
Best finish: 6th (2005)
Top 10s: 3
Cuts made: 9
U.S. Open
Starts: 6
Best finish: 36th (2008, 2018)
Top 10s: 0
Cuts made: 3
Open Championship
Starts: 5
Best finish: 17th (2018)
Top 10s: 0
Cuts made: 3
Meet the Caddie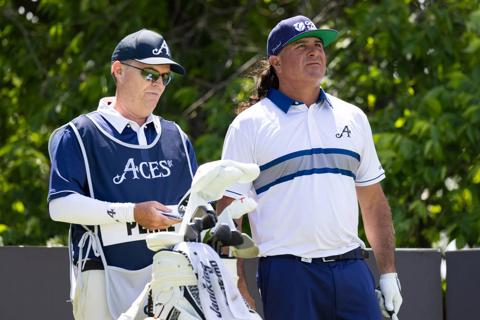 Michael Hartford, better known as "H", is a highly esteemed caddie who has been an integral part of Pat Perez's professional golfing journey. They have been a duo ever since Perez turned pro in 1997, making them the longest running professional Player-Caddie partnership at 26 years and counting.
Their story began when they first crossed paths as teenagers, and their synergy quickly became apparent. Their strong connection goes beyond the confines of professional golf and exemplifies the importance of a solid partnership in achieving success.
H's expertise in navigating the intricate challenges of the game has contributed significantly to Perez's success in professional golf. His instrumental role as Perez's caddie speaks volumes about his professionalism, expertise, and commitment to excellence. As they continue their journey together, it is clear that H's contributions will continue to shape and elevate Pat Perez's career in the world of golf.